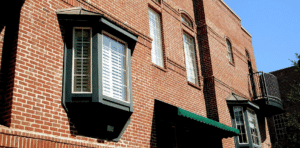 Amir Modjiri gives us his take on his first real estate investment. A small condo that was move-in ready.
Hassan: Why did you pick this place?
Amir: Honestly it was in my price range at the time. I was looking for a good test to see if I had the stomach for being a landlord. Can I make money with real estate? I didn't want to lose my shirt without knowing the market.
Hassan: What do you mean the "stomach for landlording"?
Amir: Being a landlord is hard on some people. I have a property management company, but even without that, you will have a tenant who destroys your place. It will eventually happen. They'll be scumbags or just mad about something. They will kick holes in the wall, put concrete in the drains, smear feces across the walls, or something destructive and/or disgusting at some point in your real estate career. I wasn't sure if I was ready for that.
Hassan: And what did you discover?
Amir: I was definitely ready! I just look at my real estate investments as numbers more than anything personal. I know things will happen and it's just part of being in business. When it happens I just pay the bills to get it back ready to rent. Once it's ready to rent we fill it with a new and hopefully better tenant.
Hassan Modjiri: Tell me about the first condo.
Amir Modjiri: The first condo was a good fit for me at the time. I wanted something I could afford to pay cash for. I wanted to get started in real estate investing slowly. I found this condo available for $70,000 and offered that price. There were only 2 condos sold in the last two years. In my county, these are the most affordable places to buy while also avoiding the bad areas of town. For my first investment, I wanted to make sure it went as smoothly as possible.
Hassan Mojiri: Did it go smoothly?
Amir Hossein Modjiri: Absolutely! The condo needed some new flooring in the kitchen and dining room and also needed paint. All told I spent about $2500 plus closing costs. I had saved $85000 and that gave me some money for emergency repairs.
H. Mojiri: Did you have any emergencies?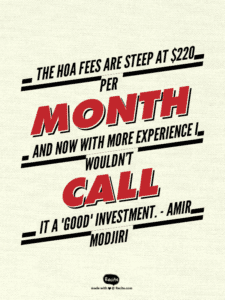 Amir Mojiri: None at all in the years that I've owned it! The HOA fees are steep at $220 per month and now with more experience I wouldn't call it a "good" investment. I've talked to my real estate agent about selling it this year.
Hossein: Now that you're more experienced, would you buy it again?
Amir: Never! It rents for $700 and I pay $220 in HOA fees leaving me $480 cash per month. Property management is another $70 leaving $410. The cash on cash return is REALLY low!
I wanted to take a few minutes to thank Amir Modjiri for taking the time to talk with me about real estate! Amir has agreed to answer any questions you might have in the comment section below.